HOME > English Page > English Summer Program
English Page : English Summer Program
English Summer Program (ESP)
IBEI's first project as a company was organizing the summer school at ASIJ (The American School in Japan). The IBEI Institute of Borderless Education was under the name of "Kokusai Gakujutsu Shinko Kyokai". We were involved in the establishment of the program, creating program plans, and recruiting students from all over Japan for 7 years.
After being away from the program for a few years, we restarted the summer program in Musashino Higashi Junior High School three years ago, considering the recent revision by the Ministry of Education that the Japanese students will learn English from the elementary level. The program has been valued by 120 students from Kindergarten to Grade 6 every year. We also started ESP at Nasu Kaijo Academy from 2006. 67 students from Grade 1 to 9 gathered from all over Japan at ESP 2009.
The mission of the program is to provide the opportunity for Japanese students to learn English while having fun, and offer creative lessons such as Tap/Hip-hop Dance, Music, Sports, Cooking, Art, Ceramics, etc. We also take excursion to places such as farms, rivers, and forests. This program provides the opportunity for young Japanese students to broaden their perspectives through causal and fun interactions with native English speakers, and to raise their curiosity in learning about foreign cultures and of course, English.
It is possible to hold ESP at your school. ESP not only provides international education settings for children but also helps advertise the school. If you are interested, please contact IBEI for further information.
Making American cookies (Cooking class)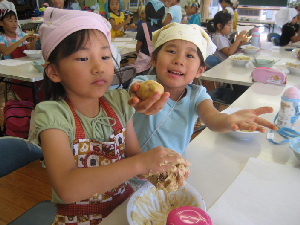 Going to the park to play games and sports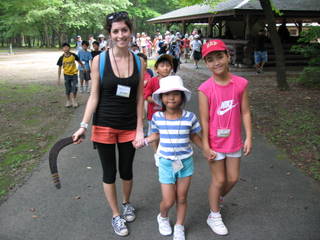 Painting with water colors (Art class)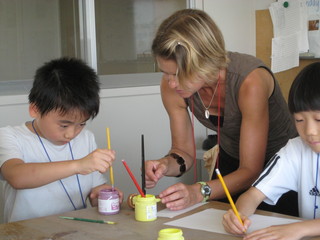 Dancing Hip hop in front of their family ( Performance Day)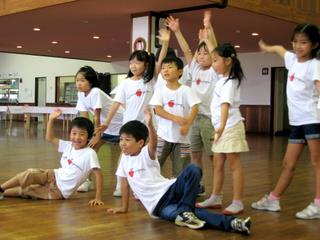 Learning about Sweden and its culture