HOME > English Page > Programs for Foreign Students and Educators
English Page : Programs for Foreign Students and Educators
Study Tours & Group Programs
IBEI conducts programs that are beneficial for both parties and organizes overseas groups to visit Japan. IBEI has been supporting school groups from Australia and the United States to make their stay more worthwhile and productive.
From Australia, there are students from Canberra and other parts of New South Wales who visit Japan, where they stay with a Japanese family and experience the school life in Japan. From the United States, groups from St Johnsbury Academy have been visiting Japan for more than 15 years now. These students are extremely eager to experience Japan's culture and they receive a warm welcome and contribute to the exchange programs every year. The main highlight of this program is conducting the "Student Peace Summit". Topics vary from differences in living in different countries to current events. Below are some schools where we hold these summits every year.

Nagasaki Nihon University Junior & Senior High School
The Nasu Kaijo Academy
Kunori Gakuen Senior High School
Summit at Nagasaki Nihon University Junior & Senior High School in 2005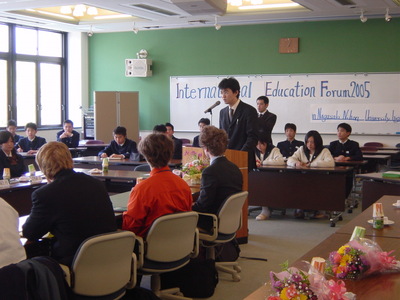 The Nasu Kaijo Academy 2009 at Meiji Jingu Shrine (Kyoto)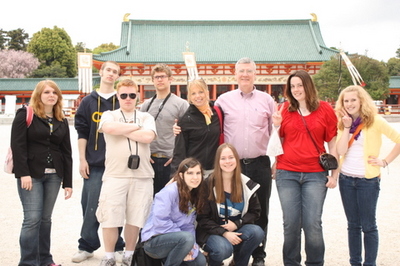 at Senso-ji Temple (Asakusa, Tokyo)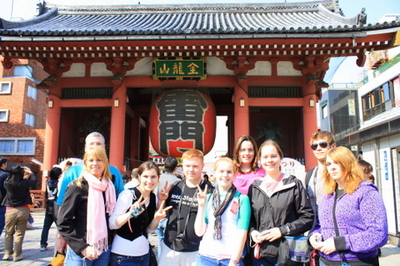 Taking pictures with local high school students at Kiyomizu Shrine (Kyoto)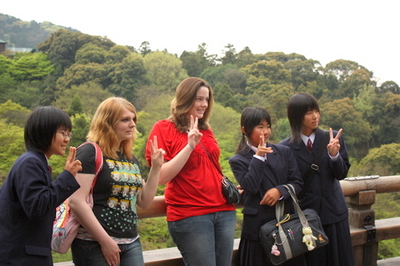 We also introduce various foreign cultures to Japan. For example, we invite indigenous people from Australia to introduce their aboriginal culture and organize tours to Japan.
Inviting Educators from Overseas and Conducting Lectures
IBEI invites headmasters and administrators from Australia, New Zealand, and the United States to conduct lectures at Japanese private schools and conferences to promote education exchange.

In 1996, IBEI asked Mr. Bernier Mayo, a former headmaster of St. Johnsbury Academy in Vermont, U.S.A to conduct a lecture at the workshop by the National Private School Education (organized by Japanese Education Research), held in Yamagata prefecture. Mr. Mayo was the special guest in the workshop and conducted a lecture on International Education.

IBEI itself has been offering lectures to encourage the International Education and Exchange Programs in Japanese private schools.
Programs for Foreign Students and Educators
IBEI supports educators from overseas and provides consultation in order to create programs as well as assistance to learn about the Japanese cultures and its customs. IBEI provides advice and relevant information to organize these events successfully.

Some examples of the events are:

Study Tours & Group programs to Japanese Schools

Home stay & Visits to Japanese families

Study Tours, visits to organizations and factories in Japan

Seminars, Set-up of Conference Hall and provide translators

Accommodation and Transportation Arrangement




*The above arrangements can be made on an individual basis as well.