HOME > English Page > Study Abroad in Japan
English Page : Study Abroad in Japan
Why Not Study Abroad in Japan?
IBEI works with individual students from overseas and finds placement in Japanese schools for either a short or long term basis. Students are placed with carefully selected schools throughout the country.

T
he
a
pplication process normally requires at least 4 months before starting the program. Therefore, prospective students are encouraged to submit the application as early as possible.
Please contact IBEI for further information and application.
German students studying at Yanagawa High School in Fukuoka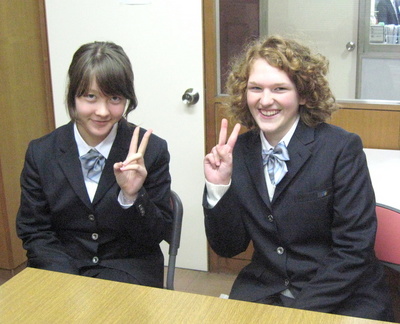 Program Summary
Starting Dates:
April or September (Beginning of the academic term)
Program Duration: 3 months - 11 months
Accommodation:
Homestay or Dormitory throughout
Japan

* Students who prefer homestay have to apply earlier as the number of host families available is limited.
Academics: Attend local private high school
Age: 15-18 years old
Language: 1 year of Japanese language study required
Cost: Depends on the program
Application Process
Consult about the program and receive information


Step2
(Budget, Duration, Type of Accommodation)

Review and Sign IBEI program rules
Submit completed application forms
(Biography, Transcript, Statement of Purpose)


Step4
IBEI reviews the applications

Step5
Interview with IBEI (over Skype/Phone)

Step6
Application procedures carried out by IBEI
Receive feed back on acceptance from IBEI
Pay the IBEI Support Fee by Wire Transfer *If Accepted

Step7
IBEI sends the acceptance letter from school
From Admission to Arrival

Step1
Immigration procedures carried out by IBEI
For programs that last for 3 months or longer, a "Certificate of Eligibility (CoE)" is required. Accommodation arrangements (Dormitory or Homestay) are made.

Step2
Receives CoE from IBEI and Apply visa at local embassy or consulate of
Japan
Arrange flight tickets and insurance

Meet IBEI staff at
Narita
Airport
Orientation at IBEI